Just a quick search at Quora will show that email list building is not dead – far from it.
And it makes sense as list building is present in both B2B and B2C industries.
However, before moving any further, we should examine why building a list rather than buying one is better.
Why you shouldn't buy an email list: 

1. People on that list don't even know you (cold audience)

2. The quality of those lists is usually poor

3. The ROI is usually quite low

4. Low response rate & high bounce rate

5. You are risking harming your IP
Now that this is out of the way, let's see 5 legitimate list building methods that work in 2020.
1. Popup/opt-in Forms
Make your Signup popup/opt-in forms catchy and hard to miss.
As KISSmetrics writes, many downplay email signups in favor of other features such as social media icons. But does it have to be that way?
Email marketing, however, is stronger than ever. If you want people to be a part of your lists all you have to do is ask them. And what better way to ask them than with a catchy on-site pop-up?
So here are a few tools to help you exactly with that.
Mailchimp
You probably know one of the most popular email marketing platforms.
But did you know that Mailchimp has its own pop-up sign up forms?
Mailchimp is really convenient, with pretty cool and visually catchy templates.
So, if you already have your email lists and audience on this tool, why not its sign-up forms to make them bigger?
Aweber
Another really good alternative when it comes to sign-up forms. Create signup forms in minutes. A user-friendly tool that is worth giving a chance.
They even have a step-by-step guide for the sign-up forms.
Whether you are a blogger or a small business, Aweber can be your special kind of email marketing provider.
SumoMe List Builder
A pretty handy tool when it comes to list building. As funny as its name may seem, SumoMe can be your one and only list building friend if you want it to be that way.
The tool is fully customizable and also supports integration with most e-mail services, like Mailchimp.
Appocalypsis
Last but not least there is Appocalypsis. Appocalypsis specializes in website widgets –  popup sign up widgets included.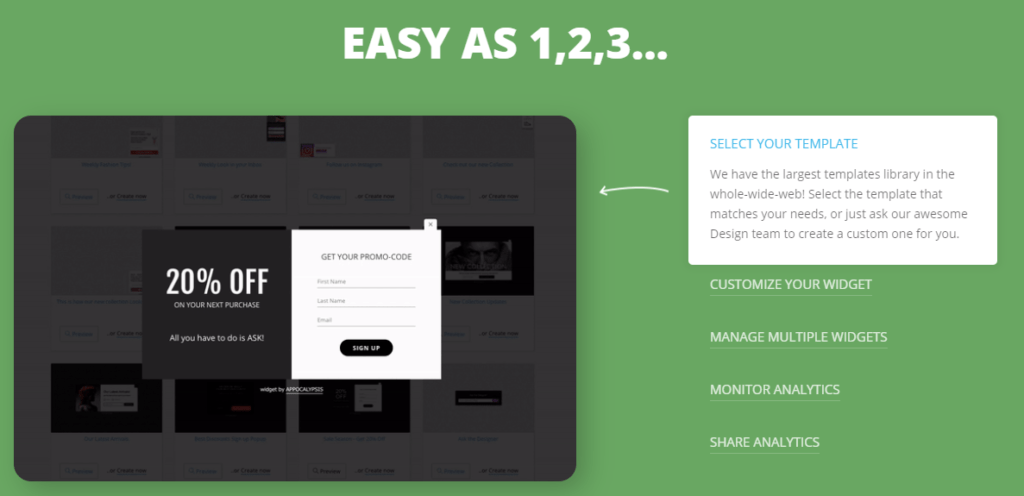 The tool is very easy to use. Just sign up and get ready to fully customize your templates and start collecting some emails!
2. Social Media
The second method is about turning your social media audience into your new email subscribers.
Focus on jaw-dropping, visual content
We are going through the age where everything is communicated through images and videos. Words are starting to lose their power and influence.
This rule definitely applies in Social media. Just take a minute and scroll through this research by Hubspot about visual content marketing statistics. The numbers speak for themselves.
So whatever you do, from contests to simple posts, always keep in mind to make catchy visuals with sexy taglines. Enchant the customer and create a need for him to sign up.
Also, have you ever thought about giving them more exclusive content?
E.g.
"Content that will be distributed only via email"
Freebies
They say that in order to get, you first have to give.
Social media are excellent channels to give your freebies through.
Those freebies can include email courses or ebooks e.t.c.
What you will ask in exchange is their email for a freebie.
Thus, you can, for example, send them to a landing page specifically made to ask for their email.
Got some extra bucks to spend? Then go for paid ads or even pins. Don't be afraid if your CTR is too high –  you will be rewarded in the end.
3. Contests & giveaways
Again, a win-win situation. You get emails on your list and people get gifts. Sounds fair, doesn't it? But there are a couple of things you should pay attention here.
Here are some take-aways for your next giveaways.
Decide how long will the competition last, how many winners & where to promote

C

hoose the right prize

Make it so that it is to their interest to share the contest (extra entries)
Keep constant track & communication with contestants

Always set big virality goals, apart from just getting new emails
4. An email for a discount
You should make it obvious on your site and social media that it is more than worth for someone to give you his e-mail.
What is really important when you are working in fields like ours is always to create value.
So why not give them a discount?
E.g.
"Subscribe now and you get 20% Discount!"
or
"The first 100 subscribers will get a 50% Discount!"
5. Tutoring
Tutoring and online courses come in many forms: virtual universities, webinars, and so on.
So why not build whole courses based on the service/product you are providing. Whether they are going to be paid or not is something that you will decide.
No matter what, you are going to ask for their email.
Tutoring is one of the best ways to create value for your customers because you show them what you are capable of – and they learn something along the way.
Always keep in mind to keep it simple for all the rookies out there!
Until next time, have a good one!